Republic of Bulgaria's Memorable Medal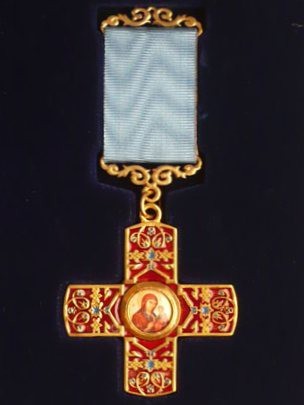 The Chairman of the Board of the International Investment Bank Nikolay Kosov has been awarded the «Samara Cross», a memorable medal of the Republic of Bulgaria, which was founded on the occasion of the 135-th anniversary of the liberation of Bulgaria from Ottoman Yoke. The Samara Cross — is the main element of the Samara flag, one of the symbols of Bulgarian military forces. A cloth embroidered by the nuns of the Iver convent was presented by the Samara citizens to the Bulgarian trainers in May 1877.
The Extraordinary and Plenipotentiary Ambassador of the Republic of Bulgaria to the Russian Federation Boyko Kotzev spoke at the awarding ceremony about the role of the renewed International Investment Bank as an important element of the expansion of the Russian-Bulgarian economic cooperation, having marked Nikolay Kosov's efforts in promoting the IIB's activities in Bulgaria.
After the ceremony the IIB's Chairman informed the heads of the Bulgarian diplomatic mission on the results of the Bank's 99th Council meeting and plans on implementing the decisions made during the meeting. Nikolay Kosov underlined that Bulgaria's position played the key role when most important decisions for the future of the IIB were made. He also spoke about the role of Bulgaria as one the leaders in both supporting and having a practical realization of the new approaches towards IIB's development, in particular — in the implementation of the Bank's new loan policy.
The parties agreed to continue having working meetings concerning IIB's development and its activities in Bulgaria.