Central Europe Fund of Funds (CEFoF) supported by IIB has presented its activities in Czech Republic.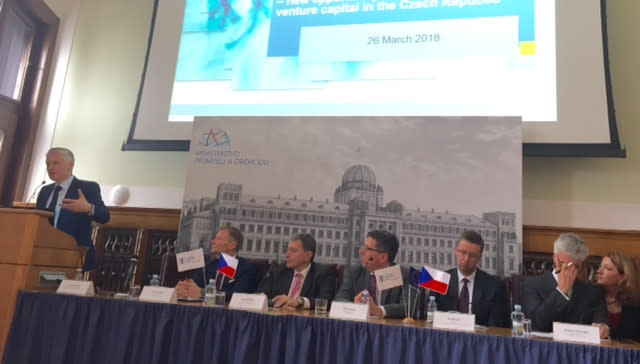 March 26, 2018
Central Europe Fund of Funds (CEFoF), which started its activities in 2018 with the support of International Investment Bank, continues the series of strategy presentations in European capitals.
The latest CEFoF's European roadshow took place on March, 26 in Prague (Czech Republic).
Among the participants of this significant business event for CE region were the CEOs andtop managers of major Czech institutional investors, investment funds and companies.
The CEFoF's roadshow in Prague was hosted by the Minister of Industry and Trade of Czech Republic Mr. Tomas Huner, who welcomed the participants of the event underlining the importance of this initiative in improving the investment climate of the country.
The IIB Deputy Chairman of the Board, Mr. Jozef Kollár, has presented the Fund's capabilities underlining high significance of its activities in particular for the SMEs and midcaps, which form the basis of Central European economy.
During the Pragueroadshowthe plans to increase the capital of CEFoF bringing it to the landmark volume of EUR 100 million in the immediate future were also announced .
CEFoF is a new fund of funds initiative created by European Investment Fund (EIF) in close co-operation with the governments and national agencies of Austria, Czech Republic, Slovakia, Hungary and Slovenia to boost equity investments into SMEs and midcaps across the region. IIB being among the main founders and major investors of the Fund actively participates in its work since launch, in particular in those countries where the CEFoF coverage matches IIB Member States – Czech Republic, Slovakia and Hungary.
For further information about CEFoF, its activities and investment strategy please click here: http://www.eif.org/what_we_do/resources/CEFoF/inde...
Reference:
European Investment Fund (EIF) is part of European Investment Bank group. Its central mission is to support Europe's micro, small and medium-sized businesses (SMEs) by helping them to access finance. EIF designs and develops venture and growth capital, guarantees and microfinance instruments, which specifically target this market segment. In this role, EIF fosters EU objectives in support of innovation, research and development, entrepreneurship, growth, and employment. More information: www.eif.org