Government of Vietnam supports IIB's development strategy – the Bank's Chairman of the Board met with the country's Deputy Prime Minister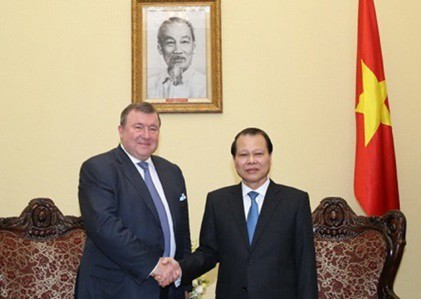 Nikolay Kosov, Chairman of the Board of the International Investment Bank, met with Vu Van Ninh, Deputy Prime Minister of the Socialist Republic of Vietnam, responsible for financial and economic affairs.
At the meeting, organised on the occasion of the 104th IIB Council Meeting, held on December 3-4 in Hanoi, Nikolay Kosov thoroughly informed his Vietnamese colleague about the results of the Bank's activities during the post–reform year under the IIB's renewed strategy. Mr. Kosov expressed special gratitude for Vietnam's support in the process of modernizing the Bank, marked in particular with an almost 4-fold increase of the country's share in the paid-in capital.
The IIB's Chairman presented the Bank's current and prospect lending activities in Vietnam, aimed in the first place at support of small and medium-sized enterprises, having specified the plans to increase the share of Vietnamese loans in the Bank's portfolio to 9% this year. Nikolay Kosov also emphasized the IIB's readiness to finance larger infrastructure projects under corresponding national programs and to consider potential participation in the state funds, aimed in particular at support of SMEs.
In return, Mr. Vu Van Ninh noted with appreciation the IIB's increasing role in social and economic life of the country with a substantial potential for its further growth. He also confirmed the readiness of Vietnam to provide further diversified support for IIB's development and urged to study together with the key Ministries of the economic bloc possibility of realization of concrete projects.