IIB's Delegation Visited Cuba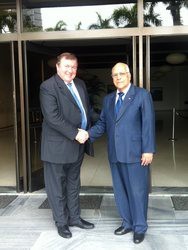 The delegation of the International Investment Bank paid a visit to Havana, the capital of Cuba, in the period from April, 18 to April, 20. Within the frames of the visit the delegation had meetings with the Vice-President of the Executive Committee of the Council of Ministers Ricardo Cabrisas Ruiz and the Minister-President of the Central Bank Ernesto Medina Villaveiran. Debt adjustment of Cuba with the IIB as well as the future participation of Cuba in the Bank's activity became the major topics of the negotiations.
The Cuban leaders demonstrated awareness of the changes that are currently taking place in the Bank. They also showed interest in the reports made by the bank managers concerning the achieved practical goals as well as the objectives for the dynamic development of the IIB.
The changes that are taking place in the IIB are in a way similar to those that Cuba is going through at the moment. The country is gradually moving towards the increase of its economic efficiency by supporting small business, expanding its external economic relations, improving the financial situation in the international community and by adjusting its debts.
Taking into account that the IIB is the only international financial organization of which Cuba is a full-fledged participant, the Cuban leaders considered the possibility of adjusting the debt of the country with the member states while preserving the membership in the Bank.
The Republic of Cuba was visited by the Chairman of the Board Nikolay Kosov and the Deputy Chairman of the Board Vladimir Liventsev.