International Investment Bank and the Financial University made arrangements for cooperation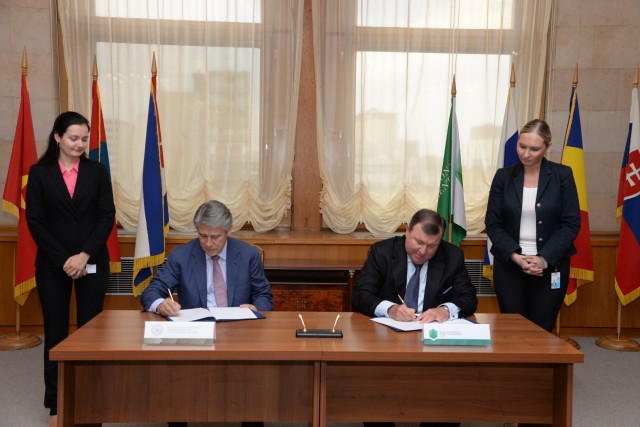 The Chairman of the Board of the International Investment Bank Nikolay Kosov and the Rector of the Financial University under the Government of the Russian Federation Mikhail Eskindarov signed a cooperation agreement. The International Investment Bank and the Financial University have long-standing relationships. The Financial University is one of the largest and leading financial universities of Eurasia. The graduates of the Financial University stood at the origins of the foundation of the IIB, occupied and occupy positions of the highest importance in the management of the Bank.
The signed document formalizes the current constructive contacts between the two organizations, creating a foundation for the realization of a number of joint education, research and social programs. In particular, the specialists from the IIB will be involved in the educational process in specialized themes: from the delivery of specialized trainings and master classes, participation in the educational classes, lectures, seminars to the organization of the joint research and development and academic programs. In its turn, the Financial University at the request of the Bank will organize programs of the advanced professional training and reeducation of the employees of the IIB.
An important direction of the cooperation will become the usage of the Bank as a base for the professional training for students — organization of trainings, the development of themes for the diploma work based on the topical for the Bank issues and the further consultations and scientific reviews by the specialists of the IIB. As Mikhail Eskindarov noted"our students will have the opportunity to work in the international financial organization and to obtain new unique experience."
The Bank intends to provide scholarships for the students from the member states of the Bank. According to Nikolay Kosov, «cooperation with the Financial University is one of the practical steps of the IIB in the realization of the program of the social accountability» and the Bank will contribute to the preparation of the highly-skilled specialists and support talented students.
The development of relations between the Financial University and the member states will become an important direction of cooperation. Talking about those prospects, Nikolay Kosov emphasized that «the good education doesn't have limits, including the the IIB territory.» Mikhail Eskindarov noted that «we will use the possibilities of the IIB for the expansion of ties with the member states of the Bank.» Moreover according to the Rector, in the Financial University studied and study citizens from all the member states of the IIB.