International Investment Bank Contributes to Development of Russian-Vietnamese Cooperation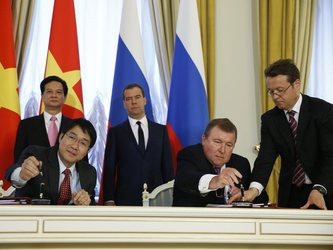 The Chairman of the Board of the IIB Nikolay Kosov and Deputy General Director of Vietnam JSC Bank For Industry and Trade (VietinBank) Mr. Nguyen Duc Thanh signed a loan agreement between the two banks.
The signing ceremony took place at the Russian Government Reception House in the presence of Russian and Vietnamese Prime ministers Dmitry Medvedev and Nguyen Tan Dung. The Head of the Vietnamese Government is in Russia with an official visit.
International Investment Bank will extend a loan to VietinBanк in the amount of EUR 15 million for a period of three years. The loan terms allow to direct funds first of all at programs for support of SMEs, which is one of the priorities of social and economical development of Vietnam and fully corresponds to the strategic principles of IIB's loan policy.
It is symbolic that the agreement on the first in the post soviet history of the IIB fully-fledged loan to a Vietnamese Bank gained to an intergovernmental support. It demonstrates that Russian and Vietnamese parties are interested in developing financial and economic cooperation, including the use of new instruments, which IIB provides to its member states, being a multilateral institution for development based in Moscow.
International Investment Bank is planning to promote its cooperation with Vietnam on a bilateral basis as well as through the implementation of projects with partners from other member states of the Bank.