International Investment Bank is coming to Vietnam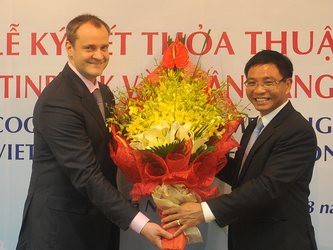 Vladimir Liventsev, the Deputy Chairman of the Board of the International Investment Bank, visited Vietnam where he held a series of meetings with the representatives of Vietnamese business and banking circles. The visit took place within the frames of the VTB Group Business Forum, and it marked one of the first steps in the implementation of the partnership memorandum signed between the VTB and IIB in January this year.
As a part of the round table on the Russian-Vietnamese cooperation Vladimir Liventsev gave a presentation of the International Investment Bank for the governmental and business circles of Vietnam. During the meeting an official partnership agreement between the IIB and Vietnam-Russia Joint Venture Bank was signed. The participants also exchanged opinions on the prospects of the participation in financing major infrastructural project on the territory of Vietnam along with VTB.
Moreover, through the Deputy Chairman of the Board of the IIB Thinh Thi Hong the IIB signed agreements with the four major Vietnamese Banks —BIDV (Bank for investment and development of Vietnam), VietinBank (Vietnam commercial bank for industry and trade), Agribank (Vietnam bank for agriculture and rural development), HDBank. The given agreements presuppose cooperation on the currency and financial markets, joint participation in the syndicated lending for various projects, as well as offering credit line in order to support small and medium-sized businesses of Vietnam. Some of the projects might be already started in May this year and thus coincide with the visit of the Prime Minister of the Socialist Republic of Vietnam to Moscow.