International Investment Bank listed new bonds on the Budapest Stock Exchange
Source: www.bse.hu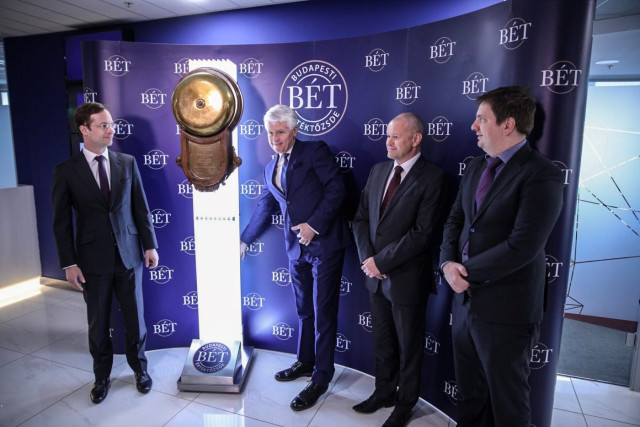 Today saw the launch of trading in the securities of International Investment Bank on the Budapest Stock Exchange. Through a bond auction, the financial institution sold nearly HUF 25 billion HUF-denominated bonds to institutional investors.
Today, International Investment Bank (IIB) launched the trading session by ringing the BSE bell. During a successful bond auction held on March 20, 2019 bonds with a total maturity of 3 years carrying a fixed coupon of 2%, totalling HUF 24.7 billion, were sold. Through the transaction, the securities of IIB are now listed on the Budapest Stock Exchange after the Vienna, Prague and Bucharest trading floors.
The transaction was implemented with the help of OTP Bank and UniCredit Bank. The proceeds from the bonds are to serve IIB's lending activities in the member states, including Hungary and to refinance existing loans.
Founded in 1970, International Investment Bank is currently owned by 9 sovereign states, including Hungary. The bank, which focuses on financing enterprises and infrastructural development in member states was given an A- rating in the first half of the month by S&P Global.
In our market development strategy, we focus on promoting financing via bond issuances and developing our international relationships and we are delighted that the International Investment Bank will soon be the second foreign bond issuer at the Budapest Stock Exchange."
– said Richárd Végh, Chairman and CEO of the Budapest Stock Exchange.
"Through issuances in local currencies IIB is successfully achieving one of its key strategic goals of promoting the development of capital markets of member states, in this case Hungary, thus fulfilling its mission as a multilateral development bank."
- Jozef Kollar, First Deputy Chairperson of the IIB Management Board stated.
The recent dynamic building of the BSE's international relations is also evident by the fact that in December the Budapest Stock Exchange became the only one in the region where the Bank of China's structured bonds were introduced, as well as the next V4+1 Capital Market Conference will be held in Budapest on 12 April 2019 to discuss the potential of the region's capital markets, stock exchanges and listed companies.