Moscow International Financial Center – Perspectives and the Role of the IIB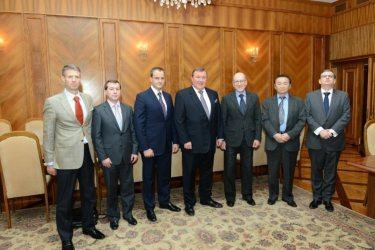 The Head of the Moscow International Financial Center (MIFC) Taskforce Alexander Voloshin visited the headquarters of the International Investment Bank.
Alexander Voloshin met with the Chairman of the Board of IIB Nikolay Kosov. During the meeting the practical aspects of employment the IIB's tools in creating MIFC were discussed.
Alexander Voloshin also took part in the extended meeting of the management Board and learned about the first results of the implementation of the new IIB strategy. Mr. Voloshin pointed out the positive role of IIB as an international financial institution, which unites countries from different regions, in developing Moscow as an international financial center. He also supported the efforts of the management of IIB in transforming the bank into a modern, multilateral institution for development and thanked the IIB management for active participation in realization of the MIFC project, including the organization of work of the MIFC Joint Liaison Group, the Deputy Co-Chairman of which is Nikolay Kosov.