State Bank of Vietnam high level delegation visit to IIB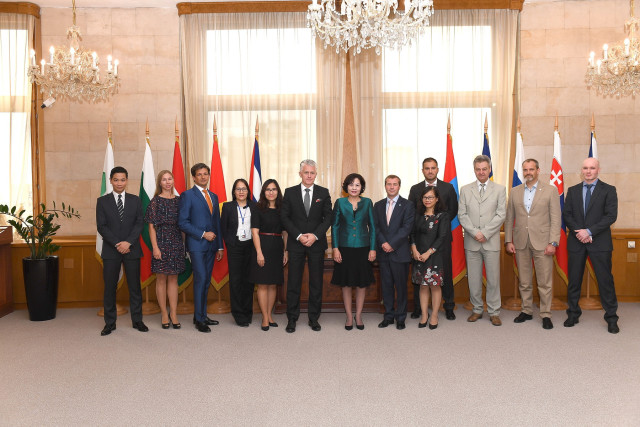 State Bank of Vietnam high - level delegation paid a visit to the IIB Headquarters
A high level delegation of the State Bank of the Socialist Republic of Vietnam headed by Deputy Governor Madame Nguyen Thi Hong visited International Investment Bank (IIB). The delegation of IIB was headed by Deputy Chairman of the Board Mr. Jozef Kollar. International Bank for Economic Cooperation representatives were also present at the meeting headed by the IBEC Chairman of the Board Mr. Denis Ivanov.
Throughout the course of the meeting Mr. Kollar informed the Vietnamese colleagues of IIB success in implementing the Strategy for 2013-2017. It was outlined that the Bank's assets have reached EUR 1.13 bn, loan-documentary portfolio volume exceeds EUR 800 mln. IIB successfully finances projects in all its member states, dynamically increases its trade finance operations, diversifies funding instruments and actively enhances its partnership network in target geographies. It was specifically noted that such good results did not go unnoticed by the international rating agencies that granted IIB with investment grade ratings. Mr. Kollar also described main pillars of the new strategic cycle aimed at doubling of assets and loan portfolio, potential expansion of the shareholder base and further development of product line.
Parties highly praised activities of IIB in the Vietnamese markets underlining the importance of further intensification of operations in the Asian region, which currently amounts to more than 13% of the loan portfolio. At present IIB, acting directly or through partnership agreements takes part in a number of Vietnamese projects aimed at infrastructure development, energy sector, financial sector, food industry, SME support as well as export-import operations. The Bank also assists Vietnamese companies in direct investment and set up of joint ventures in other member countries, fulfilling its mission as an integrator for tightening of multilateral economic ties between its shareholder states.
IIB representatives also carried out meetings with management of large commercial banks of Vietnam - «Joint Stock Commercial Bank for Foreign Trade of Vietnam (VIETCOMBANK)», «Saigon - Hanoi Commercial Joint Stock Bank» and «Vietnam Bank For Agriculture and Rural Development (AGRIBANK)». Vietnamese partners received full information on the products the Bank offers and project criteria for financing. Meetings participants discussed scopes of possible cooperation and outlined next steps for implementation of joint business initiatives.