The Republic of Cuba: new prospects of collaboration with International Investment Bank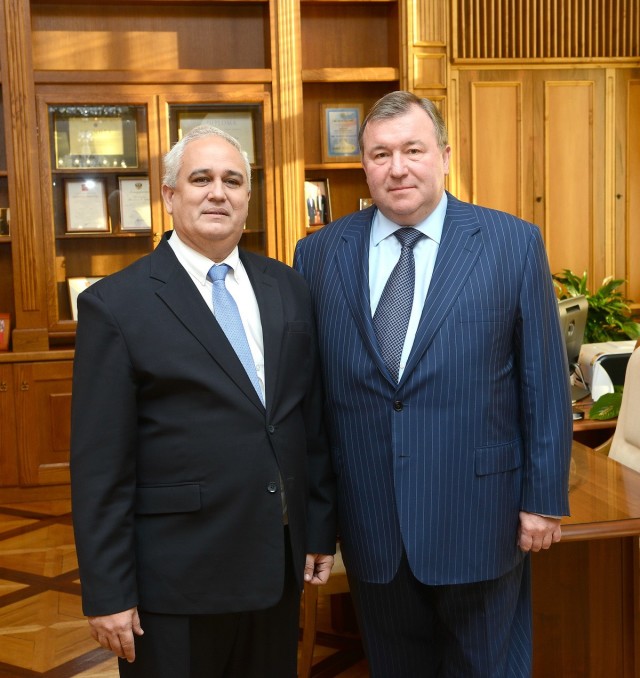 On November 18, 2013 a meeting between members of the Council of the IIB and H.E. Mr. Emilio Lozada Garcia, Ambassador Extraordinary and Plenipotentiary of the Republic of Cuba, was held in the International Investment Bank.
The main topic of the meeting was the preparation towards the 100th Council of the IIB, which is to take place on December 5−6, 2013 in Moscow. Parties discussed a series of questions that were included in the interim agenda of the up-coming Council, first of all, the renewed version of the constituent documents of the Bank and its recapitalization. Specification of the process of settlement of the debt of the Republic of Cuba towards the IIB which was in a closing stage was mentioned.
The draft of the relevant Agreement between the Bank and the Government of the Republic of Cuba is in a preliminary order already coordinated with the majority of member states of the IIB and it is planned to be signed within the activities of the anniversary meeting of the Council of the Bank. According to the Ambassador, the Vice-President of the Executive Committee of the Council of Ministers of the Republic of Cuba, Ricardo Cabrisas Ruiz, is ready to visit Moscow for these purposes.
In the end of the meeting H.E. Mr. Lozada Garcia thanked IIB's Council for its affirmative approach to settle the financial issues between the Republic of Cuba and the Bank and also expressed his hope for further mutually beneficial collaboration.