H.E. Vasile Soare receives acknowledgement from the Chairman of the IIB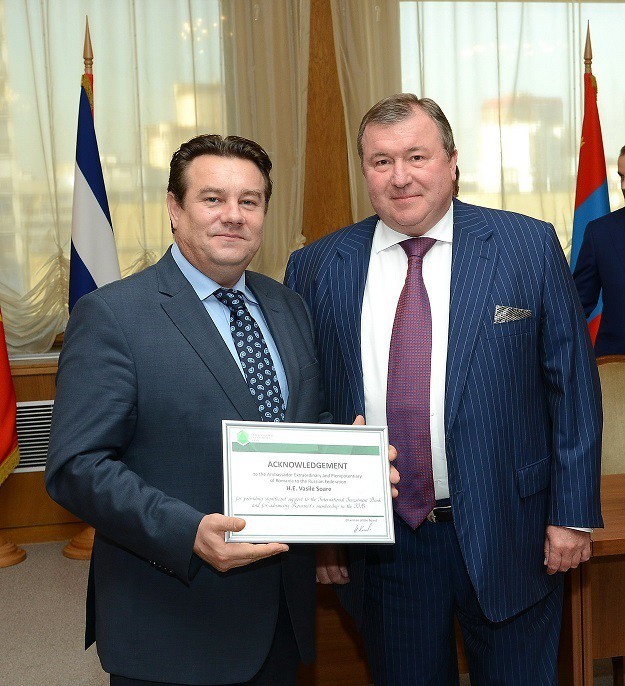 Nikolay Kosov, Chairman of the Board of the International Investment Bank, has awarded His Excellency Vasile Soare, the Ambassador Extraordinary and Plenipotentiary of Romania to the Russian Federation, with an «Acknowledgement for providing significant support to the International Investment Bank and for advancing Romania's membership in the IIB».
Under Mr. Soare's watch, Romania has transformed from one of the few countries without active operations by the Bank into one of the most active directions for IIB's investments nowadays, with already two credit facilities provided to Romanian companies only this year for a total sum of EUR 25 million and additional investments currently under review. The Romanian Ambassador has been one of the most active participants at the regular meetings of IIB's members states' ambassadors and the Bank's Board, which serve as another instrument of maintaining close relationships between IIB's shareholders and the Bank.
His Excellency also played a crucial role in the process of receiving approval of IIB's new statutory documents from the Romanian Government. Consequently, Romania signed the amended Agreement Establishing the International Investment Bank and its Charter on July 1, 2015, bringing the Bank's reform one step closer to completion.
As stated by Mr. Kosov during the ceremony, «His Excellency has brought new energy into Romania's membership into the Bank, recognising the potential positive impact the IIB can have on his country's economy. We are glad to work with Mr. Soare, and I am confident that, with his continuous support, Romania will continue rising in IIB's portfolio.»