IIB Chief Economist gives his overview on the COVID-19 effect and 2021 outlook for the economies of Central and Eastern Europe member states of the Bank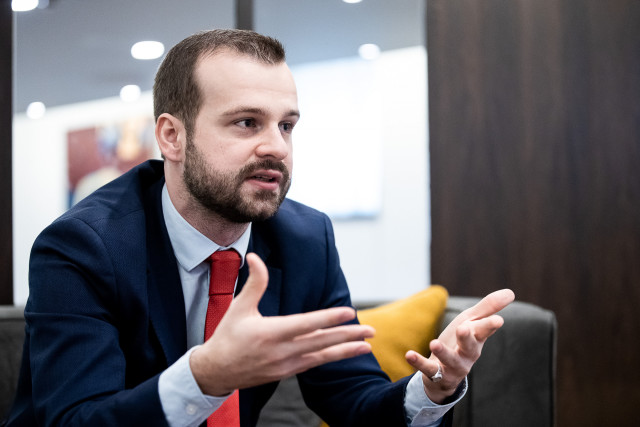 Following the practice of the past years International Investment Bank's Chief Economist Elliott Auckland shared his views on the impact of COVID-19 pandemic and the outlook for 2021 globally and specifically on the economies of IIB member states based in the region of Central and Eastern Europe.
According to Elliott Auckland's analysis, the current crisis caused by the pandemic has been incredibly atypical, and not just because of the unique nature of the Covid-19 itself, but because of the immediate and powerful response of fiscal and monetary policy makers globally. One area this is most visible is unemployment; today EU unemployment stands at 7.5% only 1% higher than the low seen in January 2020. That compares to the 4% jump from 7% to more than 11% during the Global Financial Crisis and then Euro-Zone Debt Crisis.
IIB Chief Economist predicts that despite the costs of Covid-19, the future will be bright for CEE countries. Irrespective of a recent flare-up in Coronavirus across Central & Eastern Europe and corresponding restrictions, the region will outperform the EU in 2020 and in the subsequent recovery period. The key economic theme of Central & Eastern Europe remains a strong integration into the European manufacturing supply chain (particularly although not limited to the auto sector). Manufacturing as a segment has not suffered as much as services in part driving the outperformance of the region vis-à-vis economies such as Spain and Italy.
Additionally, the close linkage between many of the region's economies to Germany (who also have been an outperformer in Europe) has been a positive supporting factor. Indeed, a key supporting factor despite the second wave has been the unexpectedly strong performance across CEE in Q3, which indicate that the recovery post Second Wave will be equally impressive.
IIB CEE economies will return to 2019 levels faster than the rest of the EU.
| | | | | | |
| --- | --- | --- | --- | --- | --- |
| GDP growth | 2019 | 2020 | 2021 | 2022 | GDP returns to 2019 levels |
| Bulgaria | 3.7% | -4.5% | 3.4% | 3.6% | Q2 2022 |
| Czechia | 2.3% | -7.0% | 3.2% | 4.5% | Q4 2022 |
| Hungary | 4.6% | -6.5% | 4.3% | 4.7% | Q3 2022 |
| Romania | 4.2% | -5.0% | 3.5% | 4.1% | Q2 2022 |
| Slovakia | 2.3% | -7.0% | 4.7% | 4.5% | Q3 2022 |
| EU | 2.1% | -7.4% | 4.1% | 3.0% | Q2 2023 |
Overall, Elliott Auckland underlines that the CEE has entered this economic crisis with more fiscal and monetary tools than it has ever had before and policy makers should be applauded for their quick and decisive response.
Czech Republic's headline Covid fiscal stimulus package has been the largest among IIB member states at around 14% of GDP, compared to 12% in Hungary, 6% in Slovakia, 5% in Bulgaria and 4% in Romania. However, it is worth noting that the Hungarian and Romanian Central Banks have also undertaken quantitative easing programs – such programs coupled with other liquidity measures have strongly averted any risk of a financial crisis (through staving off the potential threat of frozen debt markets and a seizure of bank lending).
Of course, notes Auckland, Governments have to be wary about increasing debt burdens too much, and in this regard, the decision to increase the capitalization of state development agencies is extremely necessary (for instance in Czech Republic the approval of CZK 4 billion capital increase of the Export Guarantee and Insurance Company). National Development agencies like EGAP, CMZRB, and for that matter MDBs like IIB and EIB, can play a vital role in maximising the volume of economic support on a sustainable basis (financial institutions are able to leverage capital multiple fold) as well as ensuring a very targeted application of funds given the close relationship between financial institutions and their clients.
Furthermore, in Elliott Auckland's view, institutions like EGAP, EXIMBanka Slovakia, Magyar Eximbank and IIB are critical for supporting the extremely heavy export orientated economies of the CEE. While it is clear that the national governments have successfully protected domestic economies through all the aforementioned policies, exporters are left facing strong competition in foreign markets (where local governments are also supporting domestic companies). In many ways, the world's regulators of free trade have been forced to close their eyes on state support during this crisis and without increasing the role of export focused development institutions, the CEE's vitally important export sector may be crowded out of an already shrinking export market.
Chief Economist of International Investment Bank draws special attention to the fact that looking forward, the whole CEE region has a unique opportunity to further consolidate its position as a manufacturing hub in the European Union. As well as to focus on the key business sectors of the 21st Century (electric vehicles, fin tech, online retail etc.). For instance, this requires increased investment into digitalisation which unfortunately still remains below (on a proportional basis) than other areas of Europe.
Without new investment into high technology areas, the region will struggle to further close the wage gap to Western European levels. Such investments typically go hand-in-hand with enticing multinational organizations to invest into region bringing their know-how and large investment budgets (a recent example of this is IBM's decision to build a new IT centre not far from Budapest backed by Hungarian Government grants). This is also something, which IIB has focused on since relocating to the CEE; the Bank has financed multinational corporations from Germany, Spain, France and Sweden for the specific purpose of enhancing FDI into the region. An example of this is the institution's partnership with Schaeffler, who are a leader in innovative technologies concerning CO2 efficient drives, electric mobility, Industry 4.0 and digitalization where IIB has financed their expansion into Czech Republic, Slovakia, Romania and Hungary.
Full report of Elliott Auckland can be found here.

The analysis has already drawn attention of business media in the region and was published in several outlets iin Hungary, Romania and Czech Republic.
https://index.hu/gazdasag/2021/01/19/nbb_fokozgazd...

https://www.vg.hu/gazdasag/makrogazdasag/jovore-le...

https://financialintelligence.ro/elliot-auckland-iib-noul-guvern-al-romaniei-trebuie-sa-asigure-implementarea-rapida-a-unui-pachet-de-stimuli-fiscali-pro-crestere/
https://www.kurzy.cz/zpravy/572363-elliott-auckland-analyza-dopadu-covid-19-a-trendu-2021-pohledem-ceske-republiky-a-dalsich-zemi-cee/
https://roklen24.cz/krize-jaka-tady-jeste-nebyla/
https://roklen24.cz/nejen-ceska-ekonomika-rustovy-potencial-nutne-jsou-dalsi-investice/
https://www.zfcorporate.ro/banci-asigurari/elliot-...

https://www.revistabiz.ro/cand-va-reveni-economia-...