IIB continues to be active in Mongolia: Chairperson of the Management Board Nikolay Kosov and the Ambassador of Mongolia to the Russian Federation D. Davaa discuss priority areas of the Bank's operations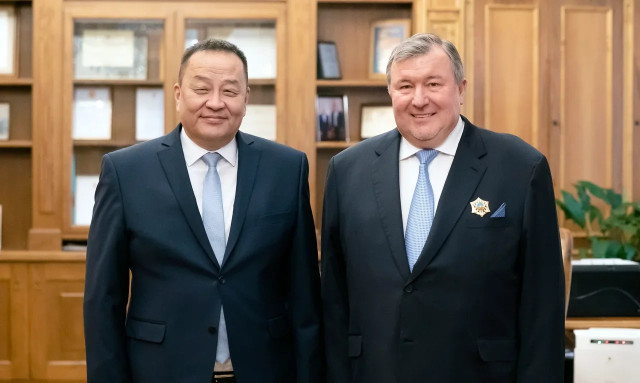 On January 4, 2021, a working meeting between Nikolay Kosov, Chairperson of the IIB Management Board, and Mr. Dulamsurengiin Davaa, Ambassador Extraordinary and Plenipotentiary of Mongolia to the Russian Federation, took place in the Bank's Moscow Branch.
During the meeting, head of IIB spoke about institution's main activities, presented information on current and prospective projects implemented in Mongolia, and shared strategic plans of IIB in the market.
Nikolay Kosov emphasized that currently the volume of the IIB loan and investment portfolio allocated in the interests of Mongolian projects is approaching EUR 80 million. In total, since the beginning of the Bank's relaunch in 2012, the accumulated volume of IIB's investments in Mongolia has exceeded EUR 242 million.
IIB provides support to such key sectors of the national economy as mining and textile industry, financial sector, metallurgy, agriculture. Support for SMEs, executed in close cooperation with the country's leading financial institutions, is also a strategic priority of IIB's work. In addition, the current pipeline includes a number of new investment initiatives for a total volume of more than EUR 110 million.
The head of the diplomatic mission of Mongolia in the Russian Federation highly appreciated the IIB's efforts aimed at supporting the country's economy and developing its trade and economic ties with other member states of the Bank. Mr. Davaa noted that the countries government is fully satisfied with the impressive results of the current activities of the institution and intends to continue providing comprehensive assistance in the implementation of its ambitious strategy and additional capitalization programme.
Special attention on the agenda was given to the issues of the Bank's support of initiatives in the field of sustainable development of Mongolia and IIB's charity activities, traditionally aimed at significant environmental initiatives. Noting the importance of projects that already received the financial support of the Bank, in particular, the conservation of rare species of animals and the restoration of peat bogs in the Tuul River basin, carried out in close partnership with the Academy of Sciences of Mongolia, the parties agreed to continue their cooperation in this field.
Also during the meeting, the head of the IIB Moscow Branch, Grigory Gruzinov was awarded the honorary title "The Best Financial Officer" on behalf of the Mongolian Financial Regulation Commission for his significant contribution to the development of the national system of combating money laundering. Within the framework of the Technical Assistance Fund for IIB Member States, the Bank in cooperation with the Ministry of Finance of Slovakia, provided support to the Financial Regulatory Commission of Mongolia in improving the country's anti-money laundering legislation. Mongolia's successes in combating money laundering have been recognized by leading international organizations in this area.