IIB provides Russian transport infrastructure support: the Bank extends a large loan for the construction of the Central Ring Road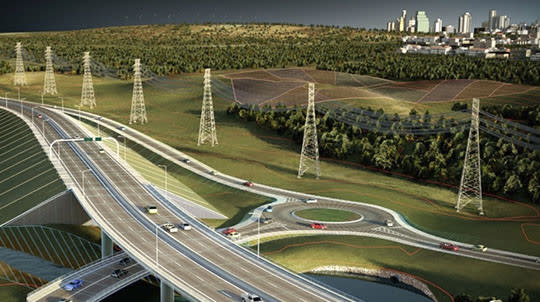 International Investment Bank issued a subordinated loan to support the construction of the Central Ring Road (CRR) in the Moscow Region of the Russian Federation.
As part of this large-scale infrastructure project, a new 106-kilometer long section of the Central Ring Road was built, connecting the M-11 Moscow - St. Petersburg and M-7 Volga highways. The estimated speed of vehicles on this modern high-speed four-lane highway is about 140 km/h.
The implementation of the project is aimed at modernization and development of the transport infrastructure of the Moscow Region, in particular, by increasing traffic capacity and average speed. Being one of the priority projects of the "Transport Strategy of the Russian Federation until 2030", the Central Ring Road is included in the national state federal target program "The Development of the Transport System".
The financing received from IIB will allow the project's current shareholders to redistribute existing capital investments and direct additional resources for further development, new initiatives and tackling priority issues.
Besides federal budget funds, the project is supported by private investors and large commercial financial institutions, as well as by two multilateral development banks - International Investment Bank and Eurasian Development Bank (EDB). The total cost of the whole CRR project is estimated at over 300 billion rubles.
"This large transaction has a fundamental importance for the Russian Federation, contributing to further expansion of the national transport infrastructure that meets the highest international standards, - commented Georgy Potapov, Deputy Chairperson of the IIB Management Board in charge of Lending and Investment, - it is also very important for our Bank, as it is the longest loan in our portfolio to date with a tenor of 23-years, which, in its turn, confirms the maturity of IIB and its consistency as a modern multilateral development institution capable to implement the most ambitious, long-term projects that fully comply with our Mission".
"The support of International Investment Bank made it possible to successfully implement one of the most essential transport projects that connects Russia to the main interregional and international transport corridors, - confirmed Alexey Andreev, Director General of the Avtoban construction and investment holding, - the subordinated loan has enabled us to build the most high-tech highway, which has become a new trademark of the Russian highway system. Taking on over 50 thousand transit transport vehicles every day, the Central Ring Road will bring domestic business ties to a new qualitative level, ensuring a reduction in freight turnover times as well as an increase in international and domestic traffic and stimulating comprehensive trade development".