IIB to join International Development Finance Club (IDFC)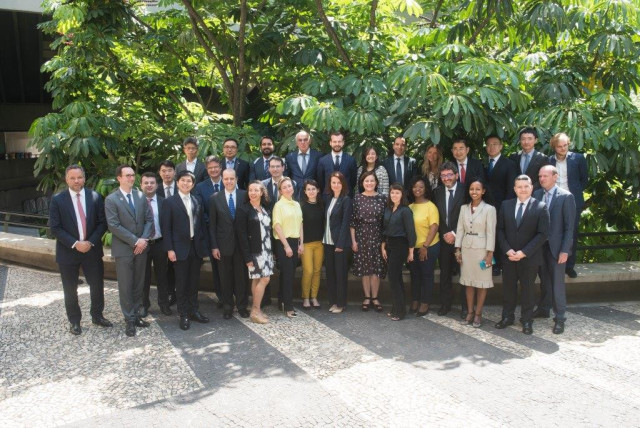 International Investment Bank (IIB) will become a member of the International Development Finance Club (IDFC). Such a decision was made during the club's Sherpa meeting this week. Sherpas will recommend their respective CEOs of IDFC member banks to approve IIB's request to join the club.
IDFC main goal is development of cooperation between members in such vital spheres as climate finance, urban infrastructure development, achievement of UN sustainable development goals, etc.
The Club is a unique platform of development institutions that is a source of new initiatives and activities aimed at project and programmes implementation in infrastructure, environmental protection, energy efficiency, innovation, social inclusion, SME support, poverty reduction, development of mechanisms to fight global challenges, as well as search for joint investment and commercial opportunities between members.
IIB filed for IDFC membership back in September 2017 and was invited to participate in the Sherpa meeting of the Club in accordance with the existing procedure reflected in IDFC Charter.
A delegation comprising of IIB's Head of International Relations and Communications Department, Anna Lvova, and Chief Economist, Elliott Auckland, arrived in Rio-de-Janeiro (Brazil) to present the Bank's activities and suggestions for IIB-IDFC cooperation during the Sherpa meeting that took place on March 19-21 and was hosted by Brazil's national development bank BNDES that has been one of the founding members of IDFC back in 2011.
As a result of the IIB presentation and participation in the meeting a decision was reached to issue a recommendation to approve the Bank's membership application.
Official signing of the IDFC Charter by IIB Chairman, Nikolay Kosov, will be executed during the Club's Annual Meeting on October 14, 2018 and would conclude the procedure.
Reference:
International Development Finance Club (IDFC) was founded back in 2011 on the sidelines of the Annual Meeting of the IMF and the World Bank. There are currently 23 member development institutions, including CAF, KfW, AFD, national development banks of Turkey, Columbia, China, South Korea, South Africa, etc.