IIB Chairperson of the Management Board receives an award for promotion of international cooperation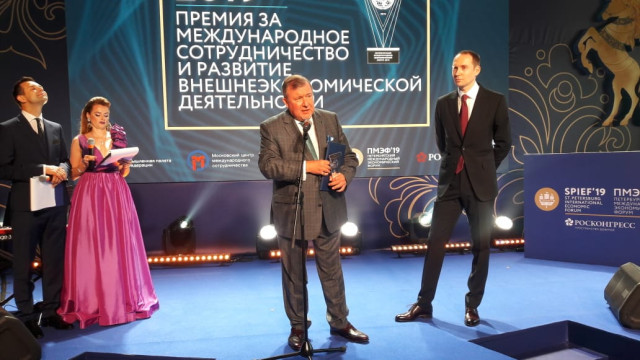 On June 5, 2019 within the framework of St. Petersburg International Economic Forum 2019 (SPIEF) the III Award Ceremony for international cooperation and development of foreign economic activity took place. Chairperson of the Management Board of International Investment Bank Nikolay Kosov was among the prizewinners.
Founders of the award are: Russian Chamber of Commerce, Moscow Centre for International Cooperation (the Government of Moscow) and "Kommersant" publishing house. SPIEF organisers - "Roscongress", also support this initiative.
The award is given for significant contribution to foreign affairs and international activity, promotion of effective international partnerships and results demonstrated in this sphere.
Receiving the award Nikolay Kosov expressed his gratitude to organisers for high appraisal of his work and noted that throughout his whole career maintaining a constructive dialogue with international community has always been a key task. Even now, implementing its mission of a multilateral development bank, International Investment Bank headed by Mr. Kosov pays special attention to projects that contribute to trade and economic cooperation between shareholder states.
Apart from IIB Chairperson of the Management Board other awardees included: Chair of the Federation Council's international affairs committee Konstantin Kosachev, President of the Russian Academy of Science Alexander Sergeev, CEO of Russian Export Centre Alexander Slepnev, rector of Moscow Institute for International Relations Anatoly Torkunov, Head of International Medical Cluster Fund Michail Yugai and Procter and Gamble's Vice President for Eastern Europe and Central Asia Sotirios Marinidis.