International Investment Bank placed ruble bonds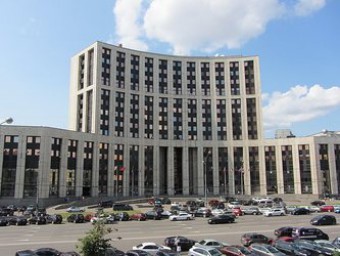 April 24, 2014. The International Investment Bank announced the closure of the bid book of the debut bonds, series 01 in the amount of RUR 2 bln. The market demand on IIB's bonds more than three times exceeded the amount of the emission.
In the course of marketing 25 bids of the investors were placed under the coupon rate 9.75% - 10.25% per annum. Subscription for the bonds totaled RUR 6.3 bln. Based on the book-building the first coupon rate was fixed at 9.9% per annum. The IIB finally made a decision to accept twenty two bids from the investors.
«We are very pleased with the results of the bonds' placement. Oversubscription of the issue in more than three times signifies high level of confidence to the Bank and emphasizes unique relation to the supranational financial institutions.» — said Nikolay Kosov, IIB's Chairman of the Board.
According to the Lead Managers, the IIB's bond placement was the most successful and remarkable debut of this year. We are glad to help the international financial organization with more than forty years of history with the realization of their new strategy. Despite the aggravation of business climate and increase of the volatility at the day of the book closure, the IIB's bonds were in demand not only by Russian but also by the international investors. The banks formed the basis of the market pull, as they highly appreciated the lower burden on the capital and a very attractive profitability. Bids from managing and investment companies were also observed. According to our opinion, the market demand on the IIB's bonds will grow considerably in case of if the Government of the Russian Federation accepts the decree on the IIB's enlistment to the multilateral institutions to which securities pension savings could be placed. — said the representatives of the Lead Managers.
«The Bank entered the market with the debut issue in the time of complicated business environment. Despite the fact that the placement took place at the time of high volatility on the markets, we made it possible to place the bonds with coupon lower the limit of the first indicative range.» — noted Denis Ivanov, the Deputy Chairman of the IIB's Board.- «The attracted funds will be used for increase of the IIB's credit portfolio including programs for support of small and medium business in IIB's member states. We show our highest appreciation to the investors and consider developing long-termed cooperation with them. "
All settlements will take place on MICEX on April 29, 2014. The Lead Managers are: VTB Capital, Raiffeisen Bank, Rosbank. Co-Lead Managers are: Veles capital, Vneshprombank, Credit bank of Moscow, Novikombank, Investtorgbank, Pervobank, Region, Rosevrobank. Underwritters are: Rosenergobank, bank" Forshtadt», Co-underwritter — Svyaznoy bank.
.